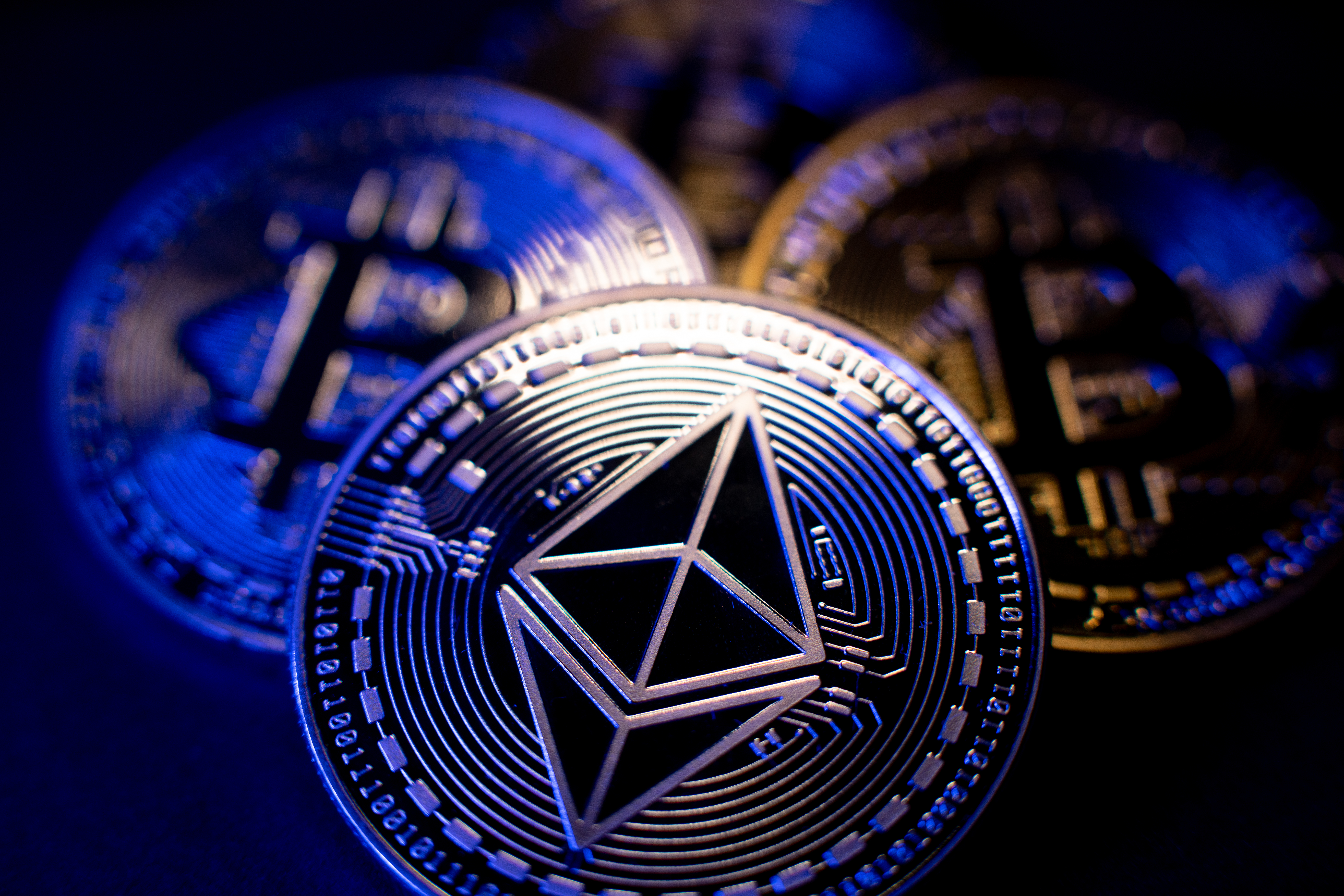 Posted October 07, 2021
By Jonathan Rodriguez
BUY ALERT: My Top 3 "Under the Radar" Cryptos-2
It's J-Rod and welcome to Stocks That Rock.
Each week, I turn up the volume on a breakout stock that will rock your retirement account.
This week, I'm ripping up the script!
Instead of talking about stocks…
Today I'm going to reveal my three favorite under-the-radar cryptos...
And show you how each one could hand you a swift gain of at least 30% apiece.
Video Notes: 
If you've been watching my videos for a while, you know I love crypto.
I don't really care about decentralizing currencies or anything like that. But I love that they're liquid instruments that trade 24 hours a day...
And experience big, quick price moves — sometimes even bigger moves than stocks.
If you're playing catch up with your retirement savings, cryptos can definitely help you pick up the pace
Here's the best part...
Even though more people are talking about and trading them than ever, most folks still have no idea what they are — or why they should care about cryptos.
Meanwhile, Wall Street money managers are quietly moving their super rich clients into digital currencies.
And CEOs all across the world are talking about crypto on earnings calls.
In fact, according to data from Bloomberg Finance, mentions of crypto on quarterly calls jumped by more than 400% in Q3 this year compared to the same quarter in 2020.
The sad truth, my friend, is that by the time everyone on Main Street figures Bitcoin and its crypto friends out...
Prices will already have skyrocketed.
But by watching this video... YOU are already ahead of the curve.
And you can make serious money in this young, emerging cryptocurrency market right now.
Now before I get into my three top crypto picks...
If you don't already have one, you're going to need a crypto account with Coinbase, Binance, or other big crypto exchange.
It's not hard to open one up an account...
But to take advantage of today's plays, you need to be able to trade what are known as alt-coins.
Which are basically the smaller, lesser-known cryptos than your Bitcoins, ethereums, what have you.
So without further ado, let's get into my three Cryptos That Rock…
First up, we have Terra, ticker LUNA — or LUNAUSD if you're charting on TradingView like I am.
Terra is a stablecoin, which means each coin is backed by a fiat currency like the dollar, Euro, or British pound as opposed to Bitcoin or ethereum, which aren't backed by any other currency. 
And its value is derived solely by what investors are willing to pay for it at any given time.
Terra's very much like Tether, if you're familiar, which is probably the most popular stablecoin.
I love Terra right now because it's made a series of significant breakouts in the last few months. And I think the coin has a ton of upside from here...
As you can see here, Terra punched through long-term resistance at $22.50 in late August and doubled in price over just a few weeks.
And just a few days ago, the coin broke out above resistance at its 52-week high around $45.
To me, that sets up a run to $65... which is my price target for Terra and offers you an upside of nearly 40% from the coin's price right now.
Now lemme back things up a little bit and show you how I got to that price target...
If you look at Terra's price action over the last few months, you'll notice that it trades in a tight $18.50 range between $25 and $43.50.
And I'm confident that the coin won't take a huge slip downwards because its rally was built methodically.
You can see the coin rip to about $45 and retrace all the back to $25 and even touch $22.50... 
Which was previously resistance for Terra.
Then the coin makes another run at $43.50, fails and retraces to the midpoint of the $18.50 range... which is around $34.25.
See what happens here?
The coin pulls back and holds there at $34.25 for a bit... and then launches past $43.50.
That's a very healthy uptrend of higher highs and higher lows with each pullback — exactly what you want to see in an asset under momentum...
That it can take some drops and get back on its feet and keep running.
Alright, next up...
We've got Tezos, crypto ticker XTZ.
Tezos is an ethereum-like crypto that's built on smart contracts and used as a platform to launch other cryptos.
I like ethereum and ethereum-like cryptos because they have valuable technology like smart contract capability built into the coins as opposed to just being an asset to trade.
As you can see,there's a big breakout at $8 here.
You see crypto soar 300% in January to $8 from about $2... and then pull back to $2 in the summer.
Just like Terra, you've got a really nice range setup & breakout...
As well as this inverse head and shoulders... where you see the coin top out, pull back, consolidate and surge again, pull back and then smash through resistance at $8.
Again, like Terra, a breakout that inspires confidence of a lasting move higher.
But let's back up just a little bit again...
You see a $6 range set up between $8 and $2. And a nice retracement from the top to $5 which is the midpoint of the range.
And then we consolidate, surge higher, and commit to a big old breakout.
My price target for Tezos is $11, which is the $3 half-range added to the $8 breakout.
That gives you an upside of 38% from where the coin trades now.
Last but not least, I give you Avalanche, ticker AVAX.
This coin is basically a platform for launching custom blockchain networks.
But you don't need to know all the details to make a solid profit from the coin.
I like it right now, because similar to Terra... the coin has broken out above long-term and short-term resistance.
In the short-term, the coin smashed through resistance at $56... holding very strong at its 50-day moving average.
And over the long-term, Avalanche burst through the ceiling at $39 and has barely looked back.
I think this is a crypto with enough momentum behind it to make a run at $100.
And a run at my price target means upside for you of more than 50%.
So in summary, my three top crypto picks right now not named Bitcoin or Ethereum are:
Terra, ticker LUNA
Tezos, ticker XTZ
and Avalanche, ticker AVAX
All three of these breakout plays are under momentum… offer you an upside of 30% to 50% from where they trade now... and feature significant downside protection.
That's all for today...
Thanks so much for watching today's video.
And if you dig the content... please hit the like button and subscribe to the Rich Retirement Letter channel on YouTube
Also if you've got any questions or comments on anything you've seen today... 
Leave me a comment below this video or shoot me an email at AskJRod@StPaulResearch.com.
Thanks again for watching.
I'm J-Rod and I'll see you next time.
Jonathan Rodriguez
Senior Analyst, Technology Profits Daily
Next article
Today's Tech Leaders Set the Metaverse Stage
Posted October 08, 2021
By Ray Blanco
The stage is set for the metaverse to explode as one of the biggest tech trends of the 2020s.
The Future of Recreational Boating is Electric
Posted August 12, 2022
By Ray Blanco
With sales of $49.3 billion in 2020, recreational boating is a huge industry, one that's primed for disruption.
This Airliner Just Placed a Bet on Flying Taxis
Posted August 11, 2022
By Ray Blanco
What sounds like sci-fi technology may not be as far off as you'd think.
Rallying in The Face of Negativity
Posted August 10, 2022
By Ray Blanco
The broad market rally continues today with the tech-heavy NASDAQ leading the charge.
Fighting for Chip Dominance
Posted August 09, 2022
By Ray Blanco
The newly passed CHIPS Act is a bill that will give a nice boost to the semiconductor names that can take advantage of it.
Keeping the Broadcast Alive
Posted August 08, 2022
By Ray Blanco
YouTube manages to stay active in Russia despite it's digital Iron Curtain
What Makes a Good Tech Investment?
Posted August 04, 2022
By Ray Blanco
I've been a successful tech investor for 30 years. In that time, I've watched tech trends come and go. But one thing has stayed the same the entire time…